SARS-COV-2 Rapid Test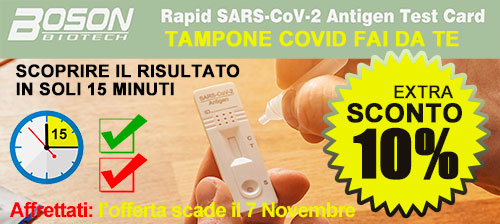 The SARS-CoV-2 rapid antigen test is a single-phase immunochromatographic in vitro test. It is designed for the rapid qualitative detection of SARS-CoV-2 virus antigens on anterior (anterior part of the nose) nasal swab specimens from individuals with suspected COVID-19 infection within the first seven days of onset of symptoms. The SARS-CoV-2 antigen rapid test should not be used as the sole basis for diagnosis or to rule out SARS-CoV-2 infection. Children under 14 must be supervised by an adult.

The test provides preliminary results. Negative results do not preclude SARS-CoV-2 infection and cannot be used as the sole basis for treatment or other patient management decisions. Negative results must be combined with clinical observations, the patient's medical history and epidemiological information.
1

With the Rapid Antigenic swab it will be possible to carry out a covid-19 swab from the comfort of your home and discover the result in just 15 minutes. The effectiveness of the result is guaranteed by registration with the Ministry of Health.